Posted by Vicco Says on 2020 Dec 1st
You surely wait for your baby to start walking. The very first step is a big event for every parent. This may happen as early as your child turns 9-month old or later. You can better predict this moment by following the other achievements of your baby, such as crawling, standing, etc.
Сhoosing baby shoes
When it comes to choosing baby shoes, it is not only about a nice design. There are lots of factors that you should take into account. The thing is that picking first walkers' shoes may be more challenging than looking for footwear for adults. Young feet keep growing, and if something is not right, the proper development may be affected. Keep reading this article to find out which shoes you should choose for your baby's first step.
Proper Model
Babies start walking at different seasons of the year. It is great if your little one can start a walking experience wearing something simple like sandals. However, it is possible to find amazing boots that will be perfect for small feet. Remember to pick a safe model that does not come with little details that can be easily detached. Also, you should choose ergonomic designs, specially created for healthy foot development. At Vicco, you will find a great selection of various shoe models to pick something for any season.
Right Size
Choosing the right baby shoe size is extremely important. If you pick a too small one, it will be tight, which may be painful for your baby. If shoes are too big, your kid will find it difficult to walk; so, the risk of falling will be much greater. When choosing something on the website of Vicco, remember to navigate to the size guide, where you will find all the important information on how you should measure your kid's feet. Also, you can contact Vicco's reps via live chat, online contact form, or email to ask any questions you want.
Previously, Vicco used to allow trying shoes on before purchasing for certain GTA areas in Ontario. Unfortunately, we had to temporary stop Free In-Home Fitting service due to the COVID-19 precautions. Hopefully, the company will be able to launch it again in the nearest future. Anyway, remember that you have 90 days to change your mind and return the shoes if they do not fit well or if there is something else that you do not like.
Quality and Lightweight Materials
Too heavy shoes are uncomfortable to wear, and your kid will not be happy if you purchase them. As for the quality of materials, they should be healthy, durable, and breathable. Kids' feet grow pretty quickly, and you will likely need to purchase bigger footwear quite often. However, you do not want to buy new shoes due to wearing out. Vicco gives a One-Year Warranty on its products because they are made of the best materials.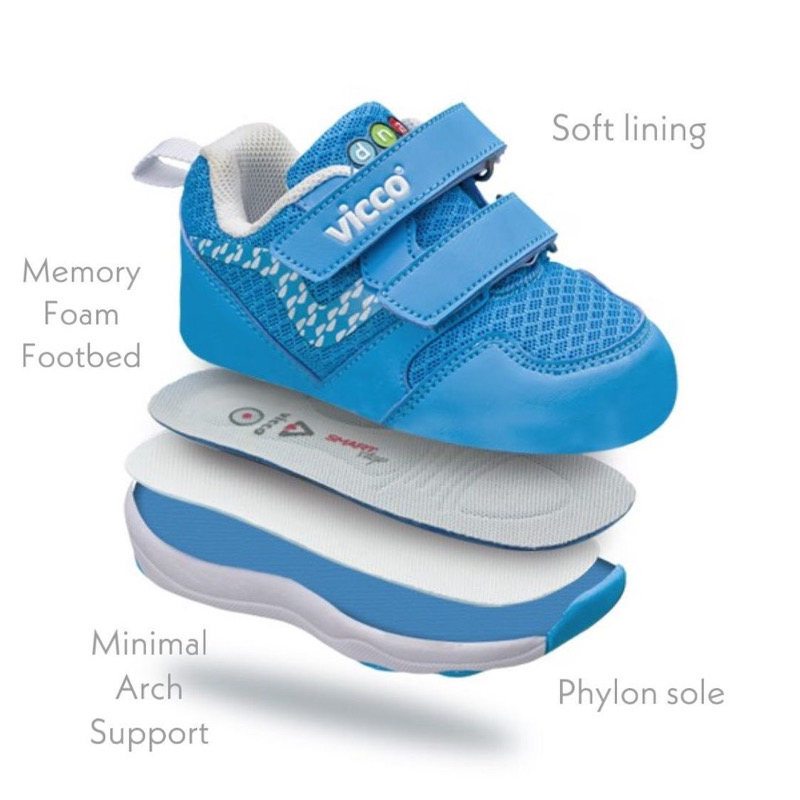 Easiness of Wearing and Taking off
While shoes should be well secured on little feet, it is recommended to avoid difficult-to-use shoestrings or fastening straps. Not every kid is happy about getting dressed. Your little girl or boy may not be sitting still while you try to secure their shoes. Therefore, you should pick a model that allows doing that quickly and easily.
A Beautiful Design
Before making the very first step himself or herself, your kid will need your help with walking. Remember that children take new things differently. However, if you wish to increase the chances of your child to love new footwear, it should be pretty. You can give new shoes to your kid to play for a bit, just to get used to them.
While your child may not even get the difference between baby girl shoes and those created for boys, you will know it. It is always great seeing how your child is wearing beautiful stuff. Remember that you may want to take a picture of your kid's very first step, and the shoes worn by him or her will always remain in the family photos.